Crazy Beautiful Love is hosting the Hoppin' for 21 Blog Hop today.
v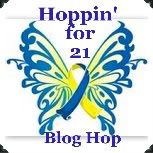 So in my "free time" I'm gonna see if there are a few new cute kiddos to check out. (It's so nice to see some of our good friends in the list already… Hi Vince! Hi Kayla!!)
Do I get double points for awareness today?  31 for 21 AND Blog Hop?
Oh!  And there IS a prize involved.  If you link up your blog to the Blog Hop, there's goodies to be awarded! So go check it out!
If you're hopping over from the Blog Hop, Howdy! Glad you came by!  I'm RK, mom to Braska (almost 5) and Kinlee (2 1/2), wife to M.  We're in the St. Louis Metro area.  I'm into putting my kids in cute girlie clothes, bows, doing digiscrapping when I get a minute or two, Bears football, and currently a little Cardinals baseball.  I'd love to have you as a blog buddy, so leave me a comment and click on the "members" button on the right, and I'll be sure to come check out your blog, too!