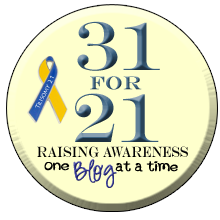 Grab This Button
Can't believe it's October. Birthday month. DS month. World Series. Football. Fall weather.  All good stuff.
But wow, has the time just flown by at warp speed or what??
Not sure who all is still out there, but if you are and you want to know something, DS or not, silly or serious… throw it out here and I'll give it a go.  Rarely is a question asked that I can't formulate a wordy answer.  No shock there.
Today I'm spending the day with friends that I would not have known had Down syndrome not been part of the plan.  We're not gathering for Down syndrome. We're gathering to share and enjoy hundreds of other Christian women gathered together to worship, learn, chat, and laugh.  The fact that my two worlds collide in this way is no small thing, and no accident, in my opinion.  I am so very blessed to have this group around me.