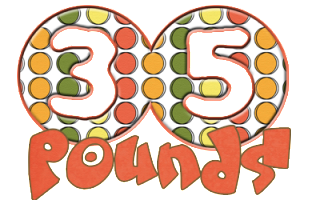 First, yes, I'm still on the wagon. Haven't fallen off yet, though I've dragged my toe over the edge here and there… it's been about 3 1/2 months since I started.

This last month has really looked more like a barely sloping plateau, but even after eating way too many yummy things this past weekend, I still dropped to a new little milestone of 35 pounds gone! Woo Hoo! (And let me tell you, I did not feel well eating all those "unapproved" items like carbs and a sweet niblet here and there…my body was not happy with me. But MAN were they yummy!)
And can I just say how silly it is, how addicted I must be to digiscrapping habits, that I can't just type in "35 pounds," I have to go and create a new cute little graphic… funny.
I'm back in the jeans I wore right after Braska when I stepped out of about 40 pounds in just a few weeks. This is a big thing for me. I missed these jeans, 3 pair of Levis that I love. (If you weren't around then…it was not healthy, and I gained no weight with Braska, so it was all "new" loss, not baby weight. But I don't recommend the stress diet.)
Bunches more to go, but I'm moving forward.  Hoping to get more regular with the make-me-sweat exercise… I'm going to try hard.  I know it will make such a huge difference.  Gotta make it a priority.
One more time… YAY!!!