Thanks for posting my button on your blog!!!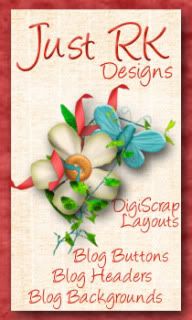 Grab This Button
It's official... I'm addicted! I'm still in the learning stages of much of the digital scrapbooking and blog design process, but I've impressed myself with how far I've come in less than 2 years while raising two busy little girls and having so little time to really read, learn, and practice. It would be so nice to have many more hours a day to spend creating and learning and experimenting, but for now, it's going to remain "just a hobby."
What can I do for you??
~Custom birth announcements
~DigiScrapping layouts, brag books. Send pictures and preferences, and I'll prepare the pages for printing. A great way to permanently remember great events and moments.
~Blog makeovers for Blogger, including background, header, post dividers, custom fonts, conversion to three-column layouts.
~Buttons--a great way to promote your blog or website! (Like the Just RK Designs button above!)
~Custom signatures for online forums (Everyone loves a great siggy!)
More info coming soon! If you have ANY questions, please email
JustRKDesigns@gmail.com
.